What is Cloudy
From Guifi.net - English Wiki


Cloudy [1] is a distribution based in Debian GNU/Linux [2] developed under the CLOMMUNITY european research project.[3]
This distribution, inspired in the idea of the old Guinux [4], facilitates the deployment and the management of cloud services[5], as well as sharing them. Particulary intended to the community network[6] users.
---
Introduction
Prior to the general adoption of cloud services[5], users of Community Networks (CNs[6]) already shared or provided services and resources to the community, however, these users were only a minority. One of the reasons identified is the technological barrier. Before providing content, users willing to share information with the community have first to take care of the technical aspects such as the deployment of a server with a set of services.
In the past, users from the Guifi.net CN tried to overcome this problem by releasing a GNU/Linux distribution named Guinux [4], which provided end users an easy way of offering network services to the community (like HTTP proxy, DNS systems and MRTG graphic interfaces).
The key part of the distribution was a set of scripts[7] that automatised the configuration process. End users were only asked for a few parameters such as their e-mail address and the node identifier. Shortly after the distribution was made available the number of end users sharing resources proliferated.
According to that, it became clear that lowering (or removing) the technological entry barrier encouraged users to provide more services and share their resources with the community. To this end, one of the goals of the CLOMMUNITY [3] project is to release a GNU/Linux distribution, codenamed Cloudy, aimed at end users, to foster the transition and adoption of the Community Network cloud environment.
Motivation
The Cloudy distributión is thought to satisfy the following requirements: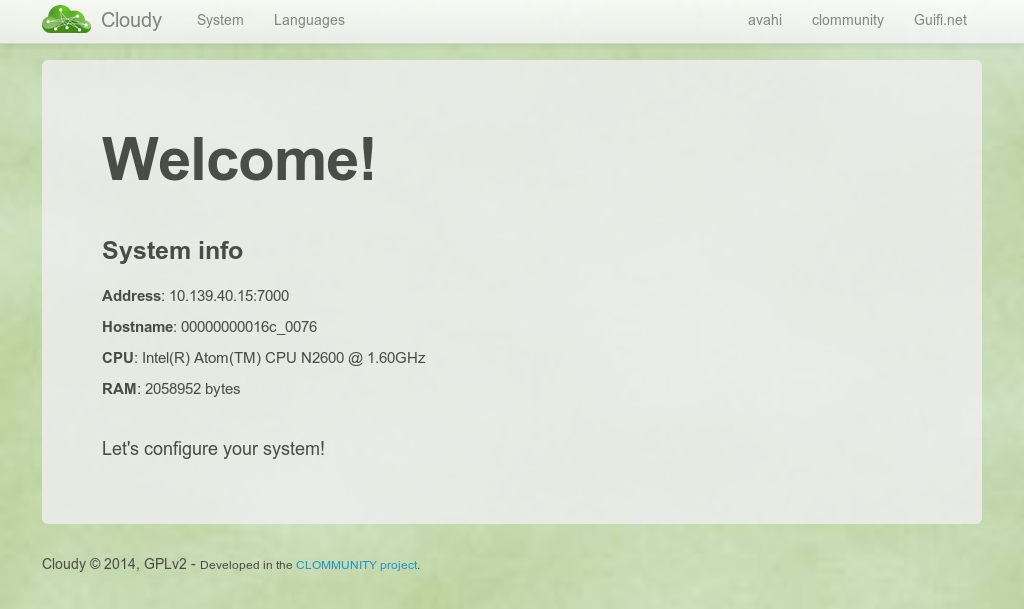 Getting started
Enter to the "Get started" section in the Cloudy website [14] to know all you need to start with Cloudy.
There you will find:
Requirements
Get/compile
Install
Update
First steps
Contents
In the "Features" section [15] you can see all the contents/software included in the distribution. Specifically is detailed the software that can be easily managed through the web interface.
This software is integrated by a plug-ins system. You can read more in the wiki page of Cloudy plug-ins.
Contributing
To stay up to date or to know how to collaborate and get involved with Cloudy, enter to the "Contribute" in the website.[16]

Remember that the mailing lists are in English because there are participants from different countries.
If you want to write in Catalan or in Spanish you should add [CAT] or [ES] respectively in the subject of the mail message.
More information
You can read more in the wiki page of the Cloudy category.
References
External links